A human-centered, evidence-based, approach to the design of products, communications, systems, and services.

Introduction
We are a small design/design education firm specializing in research, information architecture, and what is now being called user-experience design. We help our clients create products, communications, systems, and services that are easy, if not enjoyable, to use. We do this through a combination of process and methods that interact with real and/or representative users to inform decision making.




Design: The planned manipulation of variables to achieve a desired outcome.

The discussion of design as a profession is disadvantaged by the simple fact that design is something that we all do—all of the time. Have you ever looked around your desk and found something to use as a coaster? That's design. Problem identified. Problem solved. Have you ever experimented with different possible solutions to a problem until you found one that worked? That is an iterative design process. Where the design proposition becomes complicated, often exponentially, is when we endeavor to design for others. Of course the solution seems perfect to us—we came up with it. But will others get it? There is really only one way to find out. The question is if you are willing to risk finding out in the marketplace.

And because we all design, we tend to discount the problem solving component—thinking of the professional designer as someone who deals strictly with presentation—the part that we might not be so good at. In reality, the presentation layer, though important, is often a very small component of the professional designer's overall responsibility. Consider the creation of a rolling billboard. A pretty straightforward problem. Right?




Not for this designer. How many more people might be reached if the name of the advertiser and contact information had been positioned above traffic height? A classic example of an expensive miss—because of a simple failure to thoroughly consider the problem. A rolling billboard is not just a big magazine. Solutions must consider the situation—in this case lighting, viewing angles, viewing distances, motion, traffic, weather, etc. And what about the impact of the situation on the cognitive performance of the intended audience?

Now think about your problem. Is it more complex than a billboard?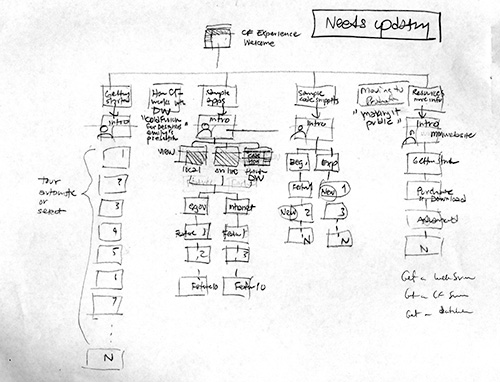 We do a lot of work in the software space. The simplest web-application (or anything that involves an ongoing exchange of behavior) is infinitely more complex than a print project. And complex problems absolutely demand a searching analysis (of both situation and solution) that involves real users. There are 2 possible exceptions: 1) when we have very little to lose and/or 2) when we have a lot of recent, direct, experience solving identical problems. Both are rare.

When your design team, or design partner, happily accepts a problem at face-value, and then jumps straight into thinking about how something might look, think twice. We call this solutionering—and the result is predictable. More often than not, outstanding design is 90% about understanding the problem and 10% about resolving it.


Design as a Platform for Innovation
Design thinking is not new. It is rooted in abductive reasoning—first discussed by Aristotle, and recognized by Charles Peirce, in the late 1800's, as a the third fundamental of logical thinking (and a cornerstone of scientific discovery). The term itself first appeared in a book by Herbert Simon published in 1969. But the reason that you are hearing about it today, in financial publications, boardrooms, and business schools, is due in no small part to the long string of product innovations sustained by Apple Computer through the 1980's and 1990's. Was there something special about the water in Cupertino? Or could innovation be planned? Designers and engineers close to Apple knew that the company's success was not magical, or attributable solely to a charismatic leader, but due in large part to design—more specifically, the principles and constructs of human-centered design—applied at the enterprise level and baked into the corporate culture. They latched onto design thinking as a palatable way to discuss the demonstrable value of design with business audiences.

The good news is that the practice of human-centered design, in and of itself, is not particularly difficult. It is largely about understanding and commitment. Often the more significant challenge lies in adapting corporate culture. Companies, not unlike people, become set in their ways. We have developed a simple framework that we call HCD+. It combines human-centered design with three additional components that foster innovation: cycles of divergent and convergent thought, a systems view, and a holistic approach to user experience. Combined with a basic set of tools and a firm commitment, HCD+ can put any organization on the path toward consistently delivering exemplary experiences to employees and customers alike.



| | | |
| --- | --- | --- |
| | | Learn a little bit more about how we think |
Different Ways that We Can Work Together
We can engage with you in a number of ways:

End-to-End Design Services: We partner with your product team or business unit to shepherd your project from concept through production.


Team Augmentation: We work along side your design team to fill gaps in knowledge and/or capacity. For example, we might work with a client that already has outstanding visual design capabilities—we figure out how it needs to work, and you take care of how it looks.


Expert Evaluation: When for one reason or another you absolutely cannot get in front of real users, the next best thing is a pair of fresh eyes—that have been around the block a few times. Think of us a proofreaders for products and services.


Design Planning and Coaching: Often times the biggest part of the problem is figuring out the right strategy for solving it. We can help your product team develop a design plan and provide guidance throughout its execution.


Teaching/Skills Enhancement: We believe strongly that User Experience Design has come to exist, as a standalone profession, largely because of a failure of graphic and industrial design education to adapt to rapid changes in demand. For many (especially smaller) organizations, the best possible situation is to have outstanding visual designers who know how to tackle complex problems that involve an ongoing exchange of behavior. We offer custom tailored, multi-day, workshop experiences designed to help visual designers acquire fundamental "UX" skills. We also offer a two-afternoon program that provides business audiences with a hands-on introduction to design thinking—now widely recognized as a powerful tool for addressing a wide-range of business problems.
| | | |
| --- | --- | --- |
| | | See some examples of our work |

Small Business
Small businesses have a lot to gain from design and design thinking but unfortunately, often view guidance in this area as an extravagance. Good design shows a proven return-on-investment. We enjoy working with entrepreneurs in a in a variety of roles and have an expanded list of services available. We're open to creative ideas about compensation and we're into teaching you how to fish for yourself! Please don't let our big-business experience and/or software focus scare you away. If you're working on something interesting, we'd love to discuss the possibility of being involved.
About Mark Feiden
The Feiden Design Group is Mark Feiden plus an expandable network of equally qualified collaborators. Mark is a true multidisciplinary designer with more than 30 years of experience working across traditional boundaries. He holds an undergraduate degree in Industrial Design (with an emphasis on visual design systems) and a graduate degree in Interaction Design. The last 15 years have been focused primarily on software/web-application and he has been involved in crafting solutions for companies like Adobe Systems, Intuit, Northrup Grumman, and IHS Markit to name a few. Mark specializes in complex, tangled-mess, problems. He enjoys making complicated things seem simple.



Getting Started
We look forward do discussing your needs and potential ways in which we might be of help. We enjoy doing quality work in partnership with quality clients. If we don't think we're a good fit, we'll say so. Contact us by email Inquiries@MarkFeiden.com and let's schedule a time to get together and talk.